The School has been operating since September 2018.
It is situated in the heart of Golders green.
We cater for the needs of the local families in the community from a range of backgrounds and cultures.

Opening Hours
8.00AM - 3.30PM
Our experienced Montessori staff aim to provide quality care in a safe and happy, yet structured environment. The children receive high quality care and attention, due to our high ratio of qualified staff to children. We provide care and education for children between the ages of 1 – 5years, and our opening hours are 8am to 3.30pm, breakfast, lunch club is also available every day. The Nursery is open term time only and follows the local schools opening dates as closely as possible.
Perfect Start Montessori School uses the Montessori Method of early education; this is a child-centred approach, in which each child can learn and develop freely at their individual pace, following their own interests and inclinations. We are dedicated to helping each child reach his full potential whilst fostering their development. We achieve this through our Montessori approach providing a warm, friendly, secure and stimulating natural environment for the children in our care.
We plan a curriculum using Montessori methods within the framework of Early Years Foundation Stages, providing the children with learning experiences of the highest quality. This method considers both the children's needs and achievements, and a range of learning experiences that will help them to make progress towards and, where appropriate, beyond these goals. We offer a wide range of activities, both inside and outside, enabling each child to develop to the best of his or her abilities.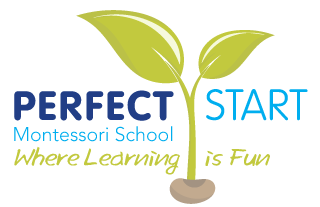 We believe in mutual respect whilst encouraging friendly and considerate manners towards peers and adults. We promote in our children a positive attitude, enthusiasm and a sense of achievement. We enable each child to discover, explore and question showing curiosity and develop of love of learning.
Detailed assessments and record-keeping are kept on each child by their key person. We track their learning and development but also welcome parents' input.
We work in partnership with parents to help children learn and develop, offering children and their families a service that promotes equality and diversity.